Upcoming Puppies Due in August 2020
SG-2 Bonja vom Haus Taurus IPG III KKla X SG-Cliff vom Schlossee IPO III Kkl1a for life
Puppies will be Linebred on:
Sid vom Haus Pixner 2-4, Ajax vom Haus Hatmann 3-5, Mary vom Haus Pixner 3-5
UPDATE Jul 31st, 2020 –
This litter has been bred for absolute stable temperament with high drives.
…and we are now taking Deposits – Do not miss out!
If interested please give me a call. (see numbers below)
SIRE:
SG-Cliff vom Schlossee IPO III Kkl1a for life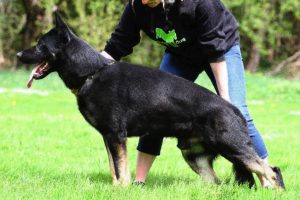 2018 German WUSV World Team Member!
2018 German BundesSieger 5th Place
2017 Landesgruppen Sieger LG 13
4-time Landesgruppen Competitor
2018 Mehlsack Pokal Champion with 99 in Protection!
DOB: March 29, 2012
Color: Bi color
Height/Weight: 65 cm/88 lbs. in working condition.
Result: Kkl-1a
HD-ZW: 69
Show score: SG
Health results: HD/ ED Normal
DM: N/N

Cliff is the last-born son of the Legendary Sid vom Haus Pixner IPO III Kkl 1a with very strong Dam bloodline as well. He is an incredibly balanced dog with high drives, big grips, power and a clear head. He has lived in the house with two children under the age of six years old and still performed at the highest levels on the biggest competitions.
DAM:
G-2 Bonja vom Haus Taurus IPG III KKla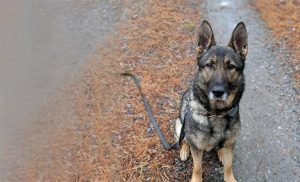 DOB: September 9, 2016
Weight: 75 lbs. in working condition.
Pedigree #: VDH/SZ 2329663
Breeders' Association: SV Germany
Show score: SG-2
Breed Survey: KKla 1a
Training Titles: IPO III
Health results: HD Fast normal/ ED Normal
We are extremely proud to have been able to acquire Bonja. She is a upper- medium sized female, Stable, High Drive female with an unbelievable bloodline for Breeding.
Her IPO performance scores are very impressive, and she has always been pronounced in courage and hardness.
She comes from the famous H-Litter vom Wolfsheim. This is arguably the most successful working litter ever produced.

Bonja's sire is SG-Vegas von der Burg Hinte IPO III, IPG III KKla – An incredibly High Drive male that excels in all phases of work and is a sound producer. Vegas' accomplishments include: 1st Place at the LGA 2016 with 286 Points; 3rd Place in the 2016 BSP with 285 Points; 3rd in the 2017 NE Regional; 4th in the 2017 USCA Nationals;3rd in the 2017 LV America Championships; 7th in the 2018 DVG BSP;1st in the 2018 USCA Nationals:3rd in the 2019 USCA combined qualifier and other High Finishes.
Bonja's dam is Happy vom Wolfsheim IPO III KKl1a for life – Happy was 6th Place in the 2017 LGA with 273 points; a 2017 BSP competitor and a competitor in the 2018 and 2019 LGAs in Germany.
Other littermates in the H-Litter vom Wolfsheim include: Hades vom Wolfsheim Upr3 ZKS-2, Hank vom Wolfsheim, Heli vom Wolfsheim IPO III 1st Malaysia IPO K9 Sports Club – IPO Championship. 30 Oct to 1 Nov 2015, Selangor – 2nd place, IPO3.German Shepherd Dog Fan Club Charity Show, 28 Nov 2015, KL – 3rd place IPO3 (A), Henrik vom Wolfsheim IPO III FH2 3x's LGA winner, 4xs BSP competitor; 4th Place 8th Place and 36th Place in the BSP and WUSV competitor; SG-Henry vom Wolfsheim IPO III 2x 2nd Place LGA Competitor, 2nd Place in the 2015 BSP, 4th Place in the WUSV; Hilde vom Wolfsheim IPO II and Horax vom Wolfsheim IPO III IPO III score -99-96-97, IPO III score 99-99-99=297 , 9x LGA competitor with a 1st, 2nd, 3rd and 4th Place finishes, 5th Place in the 2016 BSP, 10th Place in the 2017 BSP, and a WUSV competitor!

______________________________________________________