______________________________________________________
It is with great pleasure that I can announce the birth of pups from the "T Litter vom Haus Schair".
The litter was born Sept 20, 2021.
We have Bi-Color and Black pups available!
I tried to buy Hexe since she was a young dog and finally was able to do so in August of 2021. She is a VERY RARE female, and we are both lucky and proud to have her here in our kennel. We have bred Hexe to a magnificent looking stud that is strong and a proven producer, "V-Maddox vom Pentavita IPO3 Kkla for Life". This is a combination of two special working dogs that are V in conformation (excellent rated) as well!
The litter is linebred 4,5-4 on the famous "WUSV World Champion Asko von der Lutter IPO3 SchH3 FH1. Both parents have A stamp normal hips and elbows and are DM Free.
SIRE:
V-Maddox vom Pentavita IPO3 Kkla for Life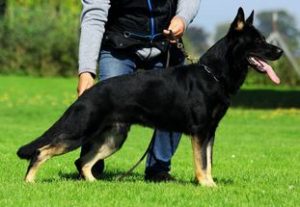 2019 Competitor in the European 7 Country IPO3 Championship
2019 2x's competitor in the German LandesGruppen 14 IPO3 Championship.
DOB: June 21,2015
Color: Bi-color
Height/Weight: 64 cm/88 lbs. in working condition.
Result: Kkl-1a for Life
HD-ZW: 71
Show score: V
Health results: HD/ ED Normal OCD Free LTV-0
DM: N/N

Maddox is a very well thought of Sire in Germany. His beautiful rich color and stable but strong temperament along with his incredible pedigree made him the perfect choice in Germany to be bred to Hexe.
Pedigree: https://www.working-dog.com/dogs-details/3006455/Maddox-von-Pentavita
DAM:
LandesGruppen Siegeren and BundesSieger Competitor
​V- "Hexe vom Speedteam Bodensee IPG3 FH1 FH2"
One of Germany's Finest Females now at vom Haus Schair

DOB:
DOB: April 13, 2015
Color: Bi Color
Weight: 70 lbs.
Pedigree Number: VDH/SZ 2315046
Breeders' Association: SV
Show Rating: V
Health results: HD Normal Hips and Elbows (free of Dysplasia) HD ZW 75
It truly is a rare opportunity to buy such an outstanding female. Hexe is truly incredible, she is a Regional IGP3 Champion (LandesGruppen Siegeren- LGA) in Germany in one of the toughest Regions there is and German National IPO3 Competitor (BundesSieger). She is several times IPG3 with excellent results as well as FH2.
Her phenomenal scores in the LGA and the qualifier attest to this:
99/97/99=295 in July 2019
97/93/96=286 in August 2019
Hexe is a rare V Rated Female in show and an unbelievable world class working dog as exhibited by her wins in Germany. She is a richly pigmented female and is wonderful with children, has great ball drive and is a wonderful tracker achieving the highest Tracking Title of FH2.
She comes from a super working line. I knew and spent time with her father Bill vom Schlossee IPO3, SchH3, FH1, FH2. Bill is a son of one of the best producing males Lux vom Hainpark who is a son of the famous Asko von der Lutter!
Bill was a large strong male and a LGA Champion with scores in the LGA and qualifier of 295 and 286. He was a member of the 2019 Belgium WUSV team. Bills mother China is a direct daughter of Yoschy von der Dollenwiese going over Troll!
A pedigree of this caliber coupled with her working ability and V in show makes her one of the finest females. Hexe has had two litters of 9 and 12 puppies.
We are now accepting deposits for this litter.
Our pups are $3,000.00 with full registration and hip guarantees.

______________________________________________________
Our "U" litter from Haus Schair has been bred!
Pups are expected the second week of October.
My personal dog Irak is the sire and has proven to be a super producer of drive and stable temperament with balanced aggression.
Gisela's past litters have produced incredible working dogs with balanced temperaments. I am VERY excited about this breeding. The breeding features a combination of the famous Pike del Lupo Nero as the Dam's sire whose bloodline is combined with that of Irak which goes over the Tom line. This is expected to produce wonderful balanced working and companion dogs. I expect black and dark sables.
SIRE: SG-Irak vom Schwarzen Bar IPO III IPG III FH1 FH2 KKl1a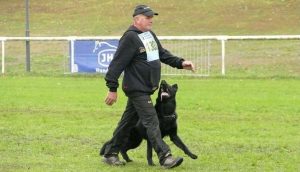 017 Vice-Sieger Landesgruppen FH with 97 points
2017 German BundesSieger FH Competitor
2018 Landesgruppen FH2 Competitor
2018 Mehlsack Pokalkamph - 5 th place
2018 Landesgruppen Qualifier for German BundesSieger 4 th Place
2018 German BundesSieger - 12 th Place with 95 in Protection
2019 Flutlich Pokalkampf – 3 rd Place with 98 in Protection
2019 LandesGruppen Competitor with 96 in Protection
*** His highest IPO III score is 97/96/100! ***
DOB: November 24, 2014
Color: High Luster Black
Height/Weight: 63.5 cm/75 lbs. in working condition.
Result: Kkl-1a
HD-ZW: 86
Show score: SG
Health results: HD Nearly normal/ ED Normal, DNA checked, Free of Spondy, LUW -) (SV)
Irak is an amazing dog with many High Finishes in trials in Germany. He is multiple times FH2 and has numerous "V" score in Tracking and Protection. Besides being an incredible natural tracker, he is super powerful in Protection as well as biddable in Obedience.
He has lived as a house dog while successfully competing and has wonderful character, EXTREME drives and is 100% sociable with no handler aggression.
He is one of the best Zico von der Adelegg sons going over Vito vom Waldwinkel and thus WUSV world IPO III Champion Tom van't Leefdaalhof.His dam line is equally impressive going over Yedi, Olex de Valsory, Nick vom Heiligenbuosh and Sid vom Haus Gremm.
DAM:
Akilah im Zeichen des Phoenix "Gisela"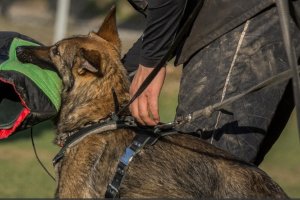 DOB: 22.06.2016 (4 Years, 2 Months)
Weight: 75 lbs.
Pedigree #: VDH/SZ 2327565
Breeders' Association: SV
Show score: SG
Performance Titles: AD, BH
Health results: HD Normal/ED Normal
Gisela is an amazing competition quality female. She is a natural tracker, has super firm and always full genetic grips comes like a freight train and is a happy high drive obedience dog. She has no handler aggression and is a joy to be with. She obtained her BH prior to leaving Germany and will be continuing on to her advanced titles this coming year after her first litter.
She comes from an amazing bloodline that goes extremely well with our Stud Dog Cliff vom Schlossee
 Gisela's sire is V- Pike del Lupo Nero IPO3 Kkl1a for Life. Pike is a fantastic working dog and also one of the most highly sought-after studs in the world. I am fortunate to have a daughter of his in Gisela. Pike is a product of the famous "Buster X Bandit" cross breeding in Germany.
I am very proud to have been able to acquire Gisela last year in Germany. Gisela is co-owned with out close friend Carol Love-Moore
Gisela's dam is SG- Anouk vom Wolfsroth IPO3 Kkl1a for Life. Gisela is a granddaughter of the well-known and super producer Leon von der Staatsmacht Sch3 Kkl1a. Leon is a son of one of my favorite foundation dogs that is used in almost all our breeding's being Asko v.d. Lutter IPO3. Her other Grandfather on her mothers' side is Cliff's father the famous Sid vom Haus Pixner. This is why she was purchased to breed to Cliff and Linebreed on Asko and Sid.
We are now accepting deposits for this litter.
Our pups are $3,000.00 with full registration and hip guarantees.

______________________________________________________