______________________________________________________
SIRE:
SG-Cliff vom Schlossee IPO III Kkl1a for life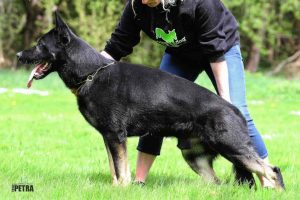 2018 German WUSV World Team Member!
2018 German BundesSieger 5th Place
2017 Landesgruppen Sieger LG 13
4-time Landesgruppen Competitor
2018 Mehlsack Pokal Champion with 99 in Protection!
DOB: March 29, 2012
Color: Bi color
Height/Weight: 65 cm/88 lbs. in working condition.
Result: Kkl-1a
HD-ZW: 69
Show score: SG
Health results: HD/ ED Normal
DM: N/N

Cliff is the last-born son of the Legendary Sid vom Haus Pixner IPO III Kkl 1a with very strong Dam bloodline as well. He is an incredibly balanced dog with high drives, big grips, power and a clear head. He has lived in the house with two children under the age of six years old and still performed at the highest levels on the biggest competitions.
DAM:
Isabelle vom Haus Schair IPO3 OFA Excellent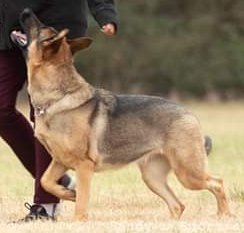 DOB: March 3, 2017
Color: Sable
Weight: 70 lbs.
Pedigree Number: AKC DN 49349403
Breeders' Association: AKC
Health results: HD OFA EXCELLENT/ED OFA Normal, DM Free
"Belle" is a product of our breeding. She comes from a very special breeding of the best working dogs with structure considered. She is a high spirited, sweet, medium sized female with High Food and Prey drives. She is a wonderful female with super obedience and great natural tracking, always full, calm grips and stable. She will be finishing her IPO III Title in 2021.
Dam: Isabelle is a daughter of our wonderfully successful Universal Siegeren Gipsy vom Rosenschlag IPOIII. You can find complete details on Gipsy under retired females on the site. Gipsy is recognized as a top producer.
Sire: World WUSV Universal Sieger V- Satoris Raiko "Ronny" IPO III, SchH3 Kkl1a for Life. Ronny is a multiple times IPO III competitor and over 25X's IPO III. His record is beyond comparison.
Satoris Raiko working accomplishments:
2011 RSV2000 International Sieger Prufung IPO III World Championship 13th Place 93/93/91=277
2012 Vice Sieger - Hungarian IPO III Championship World Qualifier– 2nd Place 94/95/92=281
2012 Sieger - Hungarian IPO III Championship World Qualifier – 1st Place 94/95/92= 97/93/98=288
2012 FCI World IPO III Championship 9th Place 96/94/93=283
2012 WUSV World IPO III Championship - 31st Place 92/94/87=273
2013 Hungarian IPO III Championship World Qualifier- 3rd Place 80/96/86=262
2013 Vice Sieger - Hungarian IPO III Championship World Qualifier – 2nd Place 98/87/93=278
2013 FCI World IPO III Championship 25th Place 88/93/94=275
2013 RSV2000 International Sieger Prufung IPO III World Championship 6th Place 100/95/91=286
2014 Sieger Hungarian IPO III Championship World Qualifier 1st Place 93/84/90=267
2014 Vice-Sieger Hungarian IPO III Championship World Qualifier 2nd Place 97/92/89=278
2014 FCI World IPO III Championship 76/90/90=256
2015 RSV2000 International Sieger Prufung IPO III World Championship 98/83/95=276
Show:
2014 WUSV Universal Sieger World Championship in Slovakia Show rating – V

______________________________________________________