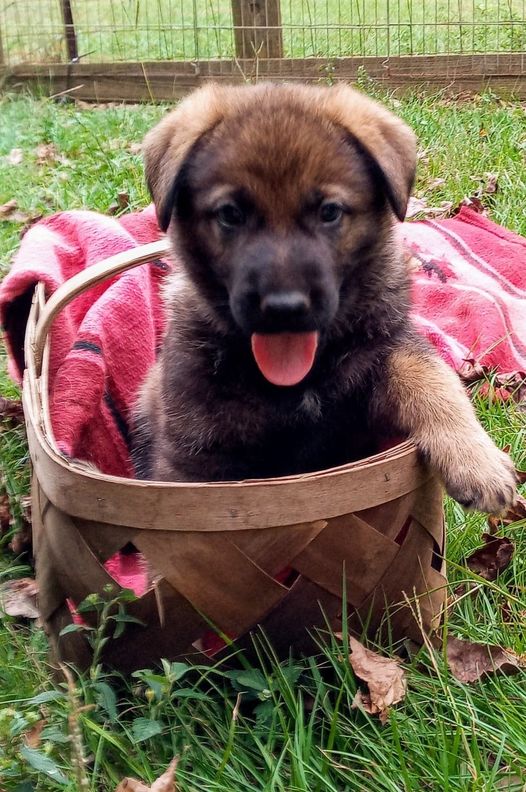 Puppies expected first week of May, 2021
SG-Irak vom Schwarzen Bar IPO III IPG III FH1 FH2 KKl1a X Chaka Zde-Sko IPG1
UPDATE April 22nd, 2021 –​
Irak X Chaka: Pups expected the first week of May 2021(?)
Breeding confirmed Pregnant – we are expecting dark Sables and Black pups with high working drives and clear heads.
Both dogs are available to see at our kennel in Georgia, USA

______________________________________________________
SIRE:
SG-Irak vom Schwarzen Bar IPO III IPG III FH1 FH2 KKl1a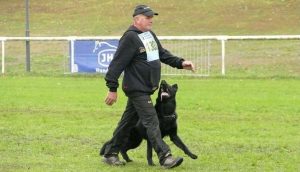 017 Vice-Sieger Landesgruppen FH with 97 points
2017 German BundesSieger FH Competitor
2018 Landesgruppen FH2 Competitor
2018 Mehlsack Pokalkamph – 5 th place
2018 Landesgruppen Qualifier for German BundesSieger 4 th Place
2018 German BundesSieger – 12 th Place with 95 in Protection
2019 Flutlich Pokalkampf – 3 rd Place with 98 in Protection
2019 LandesGruppen Competitor with 96 in Protection
*** His highest IPO III score is 97/96/100! ***
DOB: November 24, 2014
Color: High Luster Black
Height/Weight: 63.5 cm/75 lbs. in working condition.
Result: Kkl-1a
HD-ZW: 86
Show score: SG
Health results: HD Nearly normal/ ED Normal, DNA checked, Free of Spondy, LUW -) (SV)
Irak is an amazing dog with many High Finishes in trials in Germany. He is multiple times FH2 and has numerous "V" score in Tracking and Protection. Besides being an incredible natural tracker, he is super powerful in Protection as well as biddable in Obedience.
He has lived as a house dog while successfully competing and has wonderful character, EXTREME drives and is 100% sociable with no handler aggression.
He is one of the best Zico von der Adelegg sons going over Vito vom Waldwinkel and thus WUSV world IPO III Champion Tom van't Leefdaalhof.His dam line is equally impressive going over Yedi, Olex de Valsory, Nick vom Heiligenbuosh and Sid vom Haus Gremm.
DAM:
Chaka Zde-Sko IPG1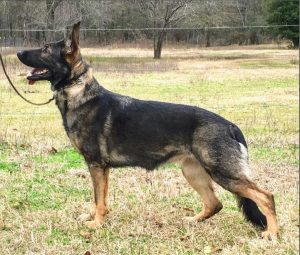 DOB: September 25, 2017
Color: Sable
Weight: 75 lbs.
Pedigree/Chip Number: 203094100002209
Breeders' Association: AKC
Health results: HD OFA good, Normal Elbows
Chaka is a personable female and is medium sized with a nicely balanced body style. She is clear in the head, enjoyable to own and always has full, firm, and calm genetic grips. She has just finished her IPG1, has no Handler aggression and comes from super working lines.
She is linebred 4-5 on Marc vom Herkulesblick SchH3, IPO3, FH1 Kkl1a with a ZW score of 81!
Sire: Falk Zde-Sko IPO3, FH1, FH2, IPO FH Kkl1a- Falk is a beautiful Dark Sable male with big grips and reliable performance. He is 8-time participant in the Czech IPO3 National Championships with 8 top 10 finishes. He is a perfect example of what we strive for as he lived a long, healthy, active life to 12.5 years of age. He is a son of the world renown V- Javir vom Talka Marda ScHh3 Kkl1a. Javir has a ZW breeding score of 72 and was 1st in the German BundesSieger (German IPO3 Championships) in 2008 with a score of 100/98/99! He was 2nd place in the same event in 2009 and 18th in 2010 and 3rd place in 2007.
He is a three-time competitor in the WUSV IPO3 world Championships with a 3rd and 4th place finish as well!
Dam: V-Jagira Aykmar IPO3, IPG3 – Jagira is a daughter of the multiple time BundesSieger competitor Gerry vom Weißeritztal SchH3, IPO3, FH2 Kkl1a. His bloodline goes over such famous foundation dogs as Mic von der Kine, Vox von der Kine, Manto Wotan vom Barenfand and Marc vom Herkulsblick.

______________________________________________________